Natural Wood Console Tables: Custom Design, Artisan Crafted, and Made by Hand to Last for Generations
Introduction
A Natural wood console table is more than just functional pieces of furniture; they are works of art that showcase the natural beauty of the wood. Custom designed and artisan crafted, these tables are made by hand to last for generations.  More importantly, we believe they add a warm, welcoming touch to any home and can enhance the overall design and feel of a space.
Wood Types for a Natural Wood Console Table
There are many types of wood available for natural wood console tables. Some popular options include Walnut, Mahogany, Cherry, White Oak, Red Oak, Hard Maple, Spalted Maple, Ash, Alder, Pecan, Hickory, Cypress, and Sapele. Each type of wood has its own unique characteristics, including color, texture, and grain pattern. All of these hard woods are durable and suited for high-traffic areas like a console table.
Hundreds of options not to mention finishes.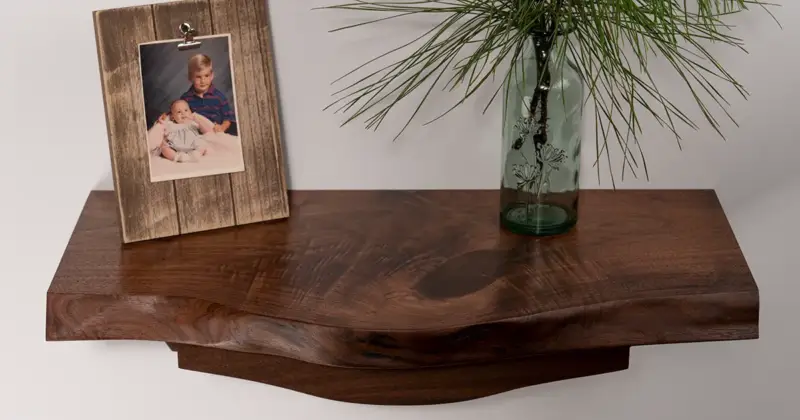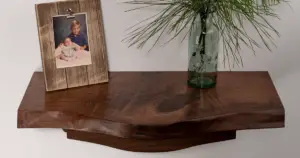 You can see it here at this link
Burls, Crotches, and Figured Woods
Burls and crotch are unique growth patterns in trees that create stunning and highly sought-after wood grain patterns. Burls are the rounded growths on the side of a tree, while crotch is the area where a tree branch meets the trunk. Figured woods are also a popular choice, including Birdseye Maple, Figured Cherry, even a white oak console table can be transformed with the use of quarter sawn oak.  Burls, crotches, and figured wood can be used to create beautiful natural wood console tables that are truly one-of-a-kind.  Let one of our artisans help choose the perfect figured stock for your project email us here at here.  
You can see some samples from one of our suppliers by clicking this link.  Cook Woods
The Beauty of Live Edge Design in Natural Wood Console Tables
Live edge design has become increasingly popular in recent years for natural wood furniture, including console tables. This unique style showcases the natural edge of the wood slab, giving each piece a one-of-a-kind look that can't be replicated.  Many think that this is relatively new design style, but the reality is live edge has been around since the beginning of furniture making.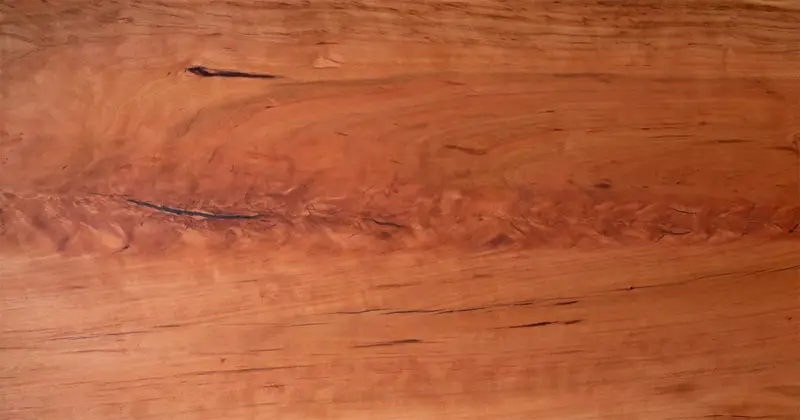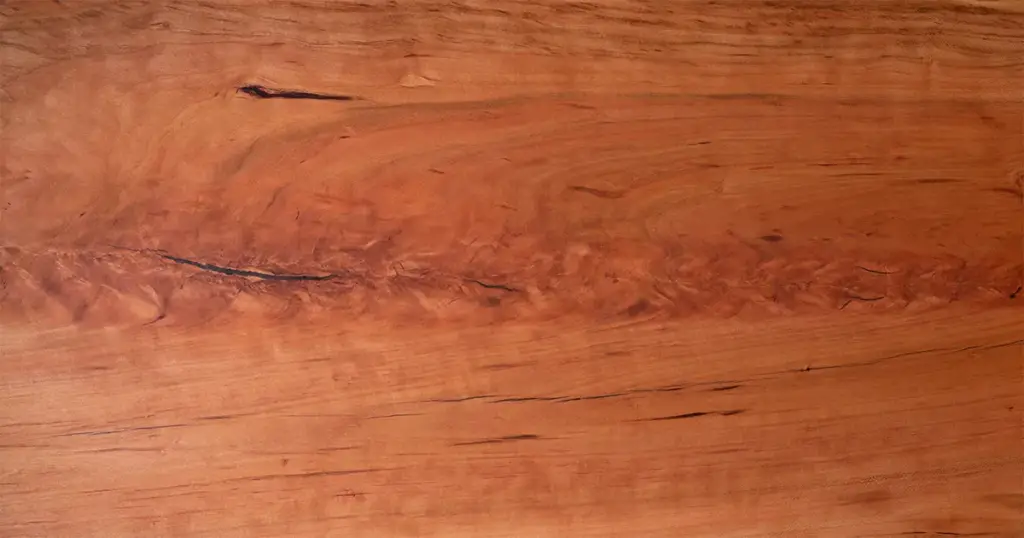 You can read more about the American Pie Console Table of our blog, here.
You can order your own custom version here American Pie
Natural Wood Console Table: Design Styles
When it comes to style, natural wood console tables can fit into any interior design scheme. For a rustic or farmhouse look, a table made from reclaimed wood or with a distressed finish can add a touch of warmth and character to a space. Mid-century modern or contemporary interiors can benefit from the clean lines and simple design of a natural wood console table, while an industrial or eclectic interior can be complemented by a table made from salvaged wood or with metal accents.  Each style has its own unique features and can be customized to fit your specific needs and preferences.
Styles of a natural wood console table you can commission Dovetails and Stitches with.
Art Deco
Industrial
Rustic
Mid-century modern
Traditional
Contemporary
Victorian
Scandinavian
French Country
Coastal
Bohemian (BoHo)
Shabby Chic
Minimalist
Colonial
Gothic
Cottage
Art Nouveau
Regency
Mission
Baroque
Rococo
Chippendale
Queen Anne
Georgian
Arts and Crafts
Modern Farmhouse
Transitional
Southwestern
Japanese
Chinese
The Art of Joinery: Crafting Custom Furniture by Hand
At Dovetails and Stiches we believe that using traditional joinery techniques is essential to creating natural wood console tables that will last for generations. Every piece we make is constructed using techniques such as mortise and tenon joints, dovetail joints, and breadboard ends. These techniques not only create a strong and stable piece of furniture, but they also add to the overall beauty of the piece. The precision and skill required to create these joints by hand is what sets our furniture apart from mass-produced pieces. When you invest in one of our handmade console tables, you can rest assured that you are getting a piece of furniture that has been crafted with care and attention to detail.
Heirloom Products
As a result each natural wood console table we create is a unique expression of the wood it's made from, as well as the craftsmanship and design sensibility of our artisans. The attention to detail and the use of time-tested joinery techniques ensure that these tables are not only beautiful but also durable enough to withstand the test of time. We believe that furniture should be built to last and be passed down through generations, and our natural wood console tables embody that philosophy.
Custom Design
At Dovetails and Stitches, we understand that every customer has unique needs and preferences when it comes to their natural wood console table. That's why we specialize in creating fully customized pieces that are tailored to your specific requirements. One of the many benefits of commissioning a piece with us is the ability to choose the size that fits your space perfectly. Unlike mass-produced furniture, we are not limited by standard sizes.  We will create your console table to any dimensions you desire.
But it's not just about size. We offer a wide variety of wood types, including Walnut, Mahogany, Cherry, White Oak, Red Oak, Hard Maple, Spalted Maple, Ash, Alder, Pecan, Hickory, Cypress, Sapele, and more. Each wood has its own unique character and grain patterns that can be showcased in the design of your console table. We also offer a range of styles, from farmhouse and rustic to industrial and mid-century modern, so you can find the perfect look for your home.
When you commission a natural wood console table from Dovetails and Stitches, you can be assured that you are getting a one-of-a-kind piece that is built to last. We use traditional joinery techniques to ensure that your table is not only beautiful but also strong and durable. And with proper care and maintenance, your console table can be an heirloom piece that you will cherish for years to come and can be passed down from generation to generation.
Conclusion
Natural wood console tables are a beautiful and timeless addition to any home. Custom designed and artisan crafted, these tables are made by hand to last for generations. With a wide range of wood types, styles, and joinery techniques to choose from, you can create a truly unique and personalized piece of furniture that you and your family will treasure for years to come.
What is the difference between a sideboard and a console table?
While both sideboards and console tables are designed to be placed against a wall, sideboards tend to be larger and more storage-focused, often featuring cabinets and drawers for storing dishes, linens, and other household items. Console tables, on the other hand, are typically smaller and more decorative in nature, often featuring open shelves or simple tabletops for displaying décor.
Which wood is used for a console table?
Console tables can be made from a variety of natural woods, including walnut, mahogany, cherry, white oak, red oak, hard maple, spalted maple, ash, alder, pecan, hickory, cypress, and sapele, among others. The choice of wood will depend on your personal preference and the overall style of your home.
What can I used instead of a hall console table?
If you're looking for an alternative to a hall console table, you might consider a narrow bookshelf, a small cabinet, or a floating shelf. These options can provide a similar surface for displaying décor or storing keys and other small items.
Is a console table the same as an entry table?
While console tables are often used in entryways, they are not necessarily the same as entryway tables. Entryway tables can take a variety of forms, including small desks, benches, or even mirrors with built-in storage. Console tables, however, are typically characterized by their long, narrow shape and simple design.
Can I find a natural wood console table with storage?
Yes, many natural wood console tables we design for our customers are designed with storage in mind. Some feature built-in drawers, while others may have open shelving or cabinets for storing books, blankets, or other household items. (Pssst, some even have secret compartments).
Can I find a natural wood console table with drawers?
Yes, natural wood console tables with drawers are a popular option and we make many versions. Drawers can provide a convenient place to store keys, mail, or other small items, while also adding to the overall style and design of the piece.
Can I find a natural wood console cabinet?
Yes, natural wood console cabinets are also available. These pieces typically feature closed cabinets or drawers for storing household items, and can be a great choice if you're looking for a console table that also provides ample storage space.
What do you call an entryway table?
The furniture industry calls this piece of furniture by different names, depending on its usage.  An entryway table can be called just that or a console table, even a sofa table if you put it behind your sofa… same table.. people call it different things.  We just call them pretty.
Can art be wider than console table?
Yes, art can absolutely be wider than the console table.  We think what is more important than width is the height that it is above the top of the console.