Mid Century Modern Desk: A Timeless Masterpiece for the Modern Professional
Mid century modern desks are always welcome projects at Dovetails and Stitches. We believe that furniture should be both functional and beautiful, and there's no better style that embodies this philosophy than mid-century modern. That's why we were thrilled when Ania approached us with her vision for a custom desk that would fit perfectly in her modern, minimalist home office. In this blog post, we'll take you through the process of designing and building Ania's dream desk, and show you how we brought her vision to life with our expert craftsmanship and attention to detail.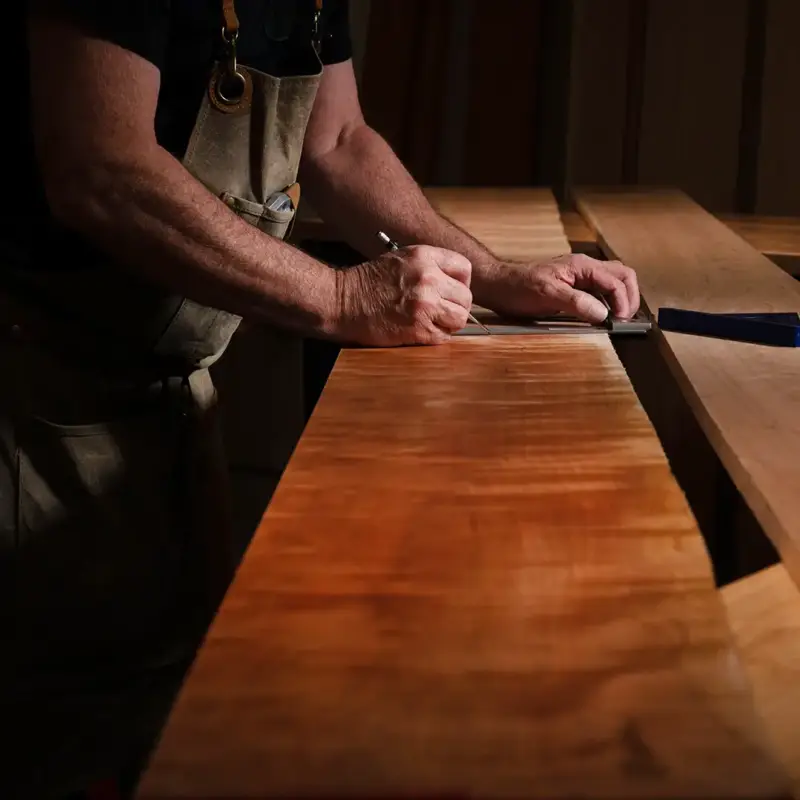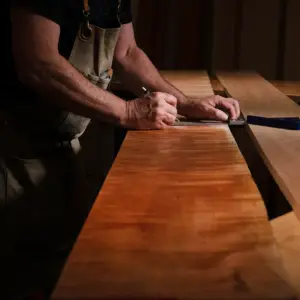 Custom Wood Desk: A Unique Solution to Meet Practical Needs and Personal Style
Ania came to us frustrated with her search for a desk that would meet both her practical needs as a work-from-home professional and reflect her personal style and aesthetic. It wasn't until she started considering the option of a custom wood desk that she realized the solution to her problem.
Working Together to Understand Ania's Requirements
Ania's love for mid-century modern design is evident in her desire for a desk that embodies the timeless, minimalist aesthetic of the era. To achieve this look, we incorporated elements that we took away from our conversation.  Resulting in a desk that not only serves as a functional workspace but also as a beautiful piece of art. The clean lines and elegant angles of the desk bring a touch of sophistication to Ania's home office.  Making it the perfect choice for anyone seeking a touch of mid-century charm.
We took the time to understand Ania's specific requirements and how she intended to use her desk. We listened carefully to her vision and needs, including the amount of storage she needed, the preferred size and style, the leg shape, type of wood (really more the color) she wanted to use in order to get the exact 'vibe' she was looking for. Here were her initial requirements.
Mid-Century Modern desk design aesthetic, which should include:
Some other items that need a little explanation.
Adjustability: Ania also wanted this desk to fit in different areas of her home so we need a design that would offer her some flexibility on where she could locate this desk in her home.
Ample storage space: Like many modern professionals she doesn't need a drawer for Pendaflex  full of manila folders overflowing with paper (anyone know what that stuff is anymore?). But she did need storage for notepads, charging bricks, a small home NAS (network attached storage), maybe even a desk lamp or two, and someplace to store her laptop when she wanted a clean desktop for other duties.
Quality and durability: Ania's desk was not only meant to be a stylish and inspiring addition to her workspace, but also one that would stand the test of time. She desired a piece that was both beautiful and built to last for many years to come.
Mid Century Modern Desk Build Images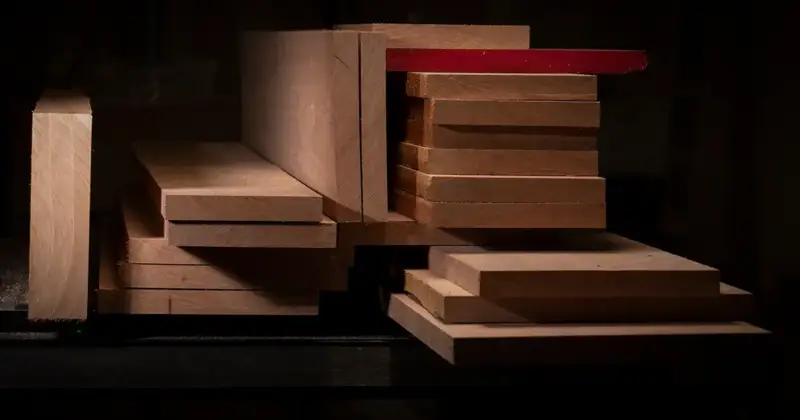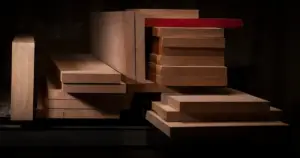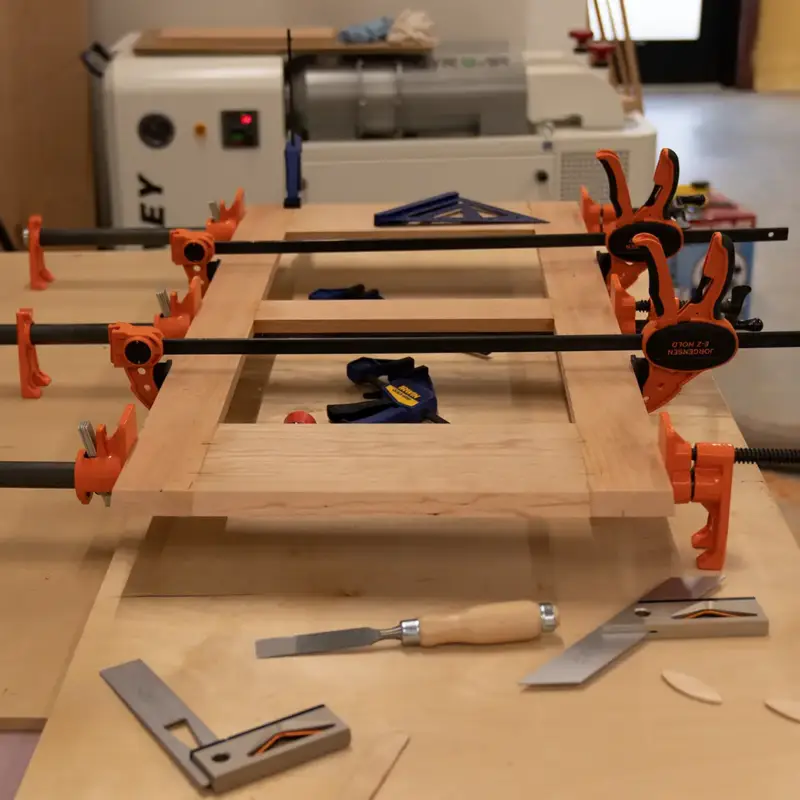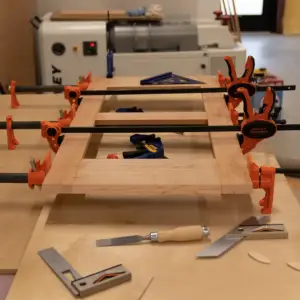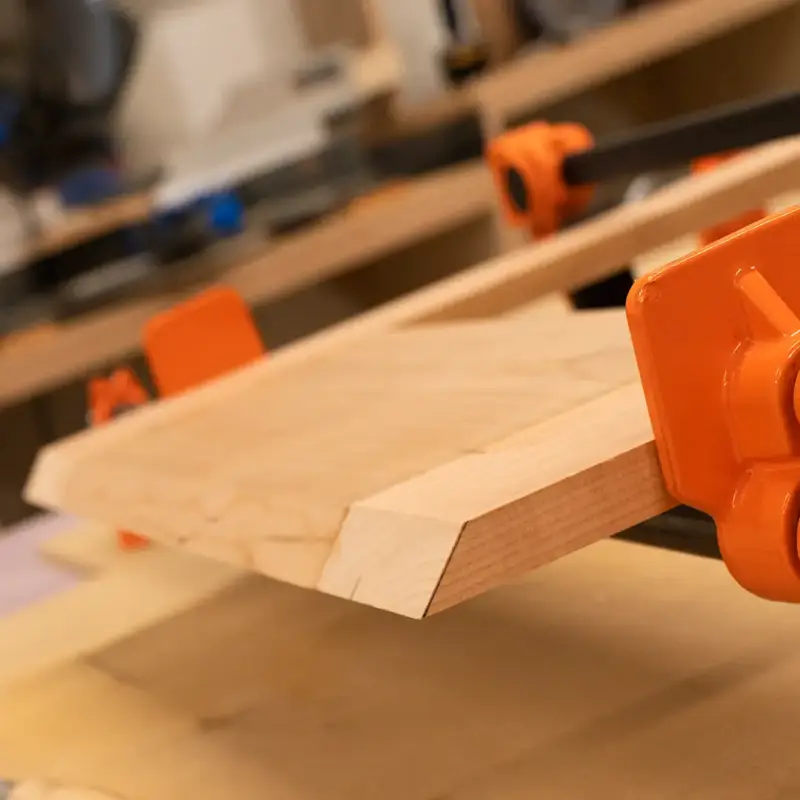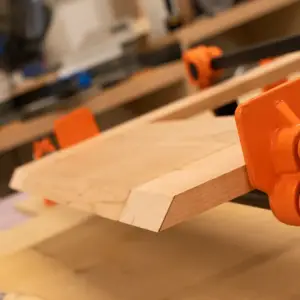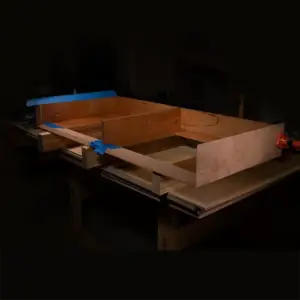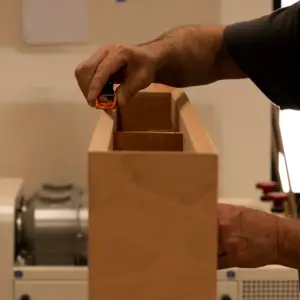 Practicality Meets Personal Style
Ania needed a desk that would not only meet her practical needs as a work-from-home professional, but also reflect her personal style and aesthetic. With her requirements in mind, we set to work crafting a design that would exceed her expectations.
Sleek, Modern Design
From the first sketch, we knew that Ania's Desk was going to be a special piece. It features a clean, tapered leg design, a beveled desktop, and an inset brass drawer pulls (update, Ania decided to go with cherry drawer pulls), all of which give the desk a sleek and modern look. The desk is adjustable in length, (a simple approach) is achieved by placing the desktop on top of the cabinet.
Ample Storage and Traditional Craftsmanship
The cabinet provides ample storage space for all your work essentials, keeping your workspace organized and clutter-free. Every aspect of Ania's Desk has been carefully crafted with traditional joinery techniques, including expertly crafted dovetailed drawers for added durability.
The Natural Beauty of Solid Cherry
But the real magic of Ania's Desk lies in the hand-rubbed oil finish that brings out the natural rich and warm tones of the solid cherry wood. This finish is a penetrating finish that is applied in multiple coats and rubbed into the wood to provide deep protection and bring out the best in the cherry.  Extra attention was paid to the the sap wood and toning it to have a consistent color throughout.
Quality and Durability of the Ania
Ania's desk was not only meant to be a stylish and inspiring addition to her workspace, but also one that would stand the test of time. She desired a piece that was both beautiful and built to last for many years to come.  So we built her a desk using time-tested techniques and the finest materials. The desktop, made of solid cherry wood, is supported by a traditional web frame, ensuring it can withstand daily use. We also reinforced and glued the miters, taking care to account for seasonal wood movement, so Ania's desk will stay sturdy for years to come.
Minimal Hardware
Ania's vision for her desk included minimal hardware, allowing the beauty of the wood and craftsmanship to take center stage. In order to achieve this, we had to get creative in our design and construction. We opted for traditional wooden runners and stops for the drawers instead of full extension drawer slides.  Even the drawer pulls were carefully selected and crafted from cherry wood to blend seamlessly with the desk. The result is a desk that is not only visually stunning but also functional without relying on modern hardware.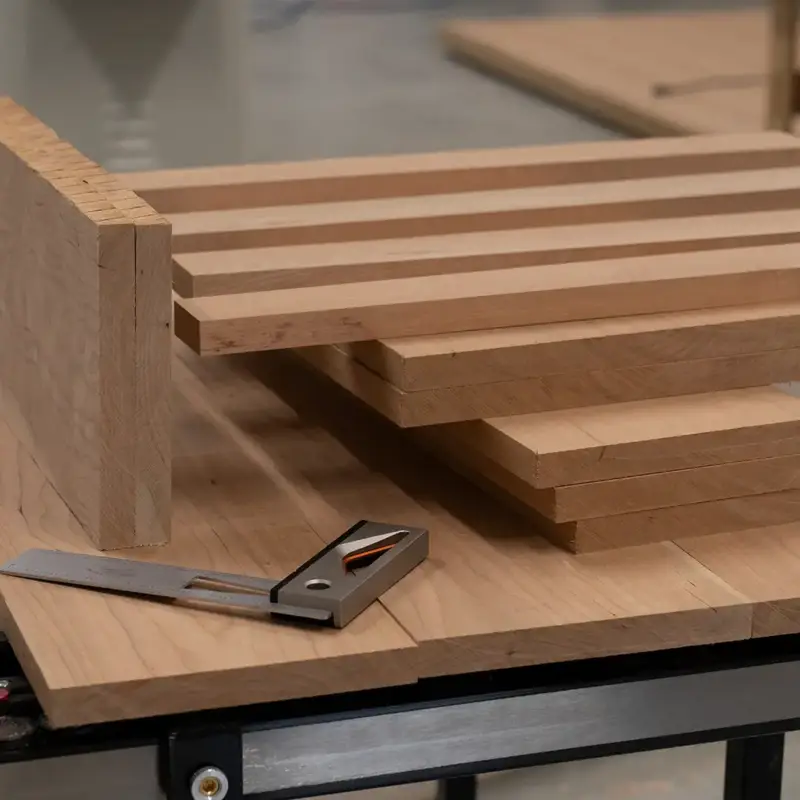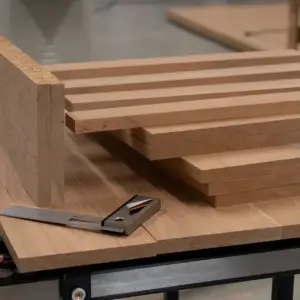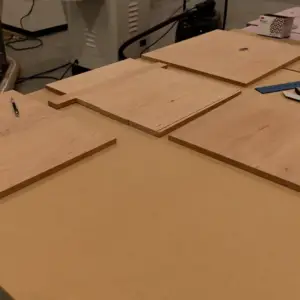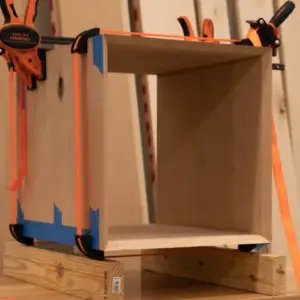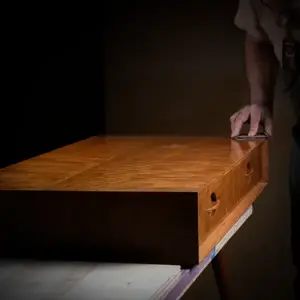 Mid Century Modern Desk the Finish
The finish on Ania's Desk is a true labor of love. Ten coats of Waterlox Satin were applied, each one sanded and rubbed before the next was added. The final coat was sanded to an ultra-fine 800 grit and then hand-rubbed with a blend of oil and beeswax. The result is a finish that is incredibly smooth to the touch and has a deep, lustrous shine. The process was time-consuming and meticulous, but the end result was well worth the effort.
Wrapping up the Ania Mid-Century Modern Desk
Overall, Ania's custom mid-century modern desk is not only a beautiful addition to her home office but also a reflection of her personal style and needs. With its sleek design and practical features, she'll be able to work comfortably and efficiently for years to come.
If you're looking for a custom furniture piece that perfectly blends practicality with personal style, Dovetails and Stitches can help. From desks and tables to cabinets and bookshelves, our skilled craftsmen are passionate about creating one-of-a-kind pieces that meet your exact requirements.
Order your own custom mid-century modern desk: If you're in need of a desk that perfectly blends practicality with personal style, consider ordering your own custom mid-century modern desk from Dovetails and Stitches. Our team of skilled craftsmen will work with you to create a one-of-a-kind piece that meets your exact requirements.
Browse our shop and blog: Want to see more examples of our work? Check out our shop (click here) to see some of the custom furniture pieces we've created for our satisfied clients. We also have a blog where you can read about our design process, woodworking tips, and more.  The blog is here. More on custom desks can be found on this page (custom desk page)
Contact us to discuss your project: If you're interested in working with Dovetails and Stitches to create your own custom furniture piece, don't hesitate to get in touch. Our team is always happy to discuss your project in detail and provide a free quote.
Follow us on social media: Stay up-to-date on the latest news and projects from Dovetails and Stitches by following us on social media. We regularly post photos and updates from our workshop, as well as tips and advice for anyone interested in custom furniture design and woodworking.
Leave us a review: If you've already worked with us and love your new furniture piece, we'd be thrilled if you could leave us a review. Your feedback helps us continue to provide the highest quality craftsmanship and customer service possible. Click this link  (leave a review)